Saskatoon Goldfins will Dive into the 2023 - 2024 Swim Season at the 2023 Fall Breakout
Saskatoon Goldfins will Dive into the 2023 - 2024 Swim Season at the 2023 Fall Breakout
The Saskatoon Goldfins Swim Club will travel to Regina, SK on Friday, September 29, 2023 to compete in the 2023 RYMM Fall Breakout swim meet - September 29 - October 1, 2023, This swim meet is the first meet on the Goldfins 2023 - 2024 competition calendar. This meet will feature short course events that will be offered as timed finals throughout the weekend. The Goldfins Swim Club will be proudly represented by 64 swimmers who will be competing in individual and in relay events at this swim meet.
The meet's schedule is as follows:
Friday, September 29, 2023 - Session 1 - Warm-Up: 4:30 PM & Competition: 5:15 PM
Events: 200M Freestyle, 100M Fly, 50M Backstroke, 1500M Freestyle
Saturday, September 30, 2023 – Session 2 – Warm-Up: 8:30 AM & Competition: 9:15 AM
Events: 4 X 50M Medley Relay, 100M Freestyle, 200M Backstroke, 50M Breaststroke, 400M IM
Saturday, September 30, 2023 – Session 3 – Warm-Up: 4:00 PM & Competition: 4:45 PM
Events: 200M Fly, 100M Backstroke, 200M Breaststroke, 50M Freestyle, 400M Freestyle
Sunday, October 1, 2023 – Session 4 – Warm-Up: 8:30 AM & Competition: 9:15AM
Events: 50M Freestyle Relay, 50M Fly, 200M IM, 100M Breaststroke, 800M Freestyle
Wishing the Goldfins swimmers competing at the Fall Breakout the best of success: Erioluwa Agbejule, Inioluwa Agbejule, Enioluwa, Enioluwa Agbejule, Dani Andrews, Gage Andrews, Hassan Awadalla, Adelaide Bartlett, Harper Bear, Violet Bi, Kasey Biberdorf, Cori Biberdorf, Evelyn Bourassa, Briana Boyko, Cade Busa, Carsyn Busa, Emily Charabin, James DeLathouwer, Robyn Diederichs, Kamlyn Dyck, Tylan Fehr, Luka Fehr, Claire Gerich, Vanessa Godbout, Zahra Gokavi Bailey, Sidney Goodwin, Miller Gotto, Summer Grajo, Gillian Grayston, Nathan Grayston, Zoe Gursky, Ava Gursky, Ava Hall, Emmy Hoffmann, Olivia Hoffmann, Hadley Hollick, Dejan Jarcan, Mateo Jarcan, Ivy Kellett, Landon Kennedy, Clara Lane, Sofia Lazic, Oliver Ledingham-Off, Jasper Ledingham-Off, Piper Lejbak, Katie Longjohn, Kyle MacGillivray, Atticus Mowat, Benjamin Nesteroff, Malu Prado, Ethan Rieger, Lauren Russell, Rhett Ruzesky, Will Sothilingam, Shay Sullivan, Maxwell Thille, Lucas Tse, Reese Veikle, Cohen Veikle, Piper Veikle, Danny Wang, Leo Wang, Mariah Weber, Chasen Weber and Sienna Weber.
To follow Goldfins results:
Please have your Goldfins swimmer(s) pack the following items in their swim meet bag:
2 Towels
Goggles (tight fitting)
Tight Fitting Blue Swim Suit
Goldfins' Cap(s)
Water Bottle
Variety of Snacks
Blue Goldfins T-Shirt/Orange Shirt (to be worn - Saturday, September 30, 2023 - NDTR)
Shorts/Sweats
Deck Shoes
Notebook (Log Book) & Pen/Pencil
Hey You in the Blue!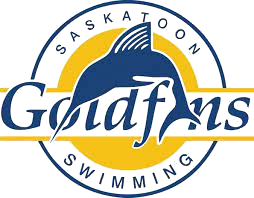 -30-