Craven SPORT Services Racing Series #1 Results Are In
Craven SPORT Services Racing Series #1 Results Are In
The Saskatoon Goldfins Swim Club hosted the first of the Craven SPORT Services Racing Series events of the 2024 swim season. The Club is looking forward to hosting four of these spectacular competitive events for our developing swimmers over the course of the busy swim season.
On Saturday, November 4, 2023, the Goldfins played host to three (3) northern Saskatchewan age group swim clubs: Meadow Lake Manta Rays, Battleford Orcas, and the Saskatoon Lasers Swim Club. A total of 117 swimmers competed in over 350 individual events as well as in a non-sanctioned relay.
For many swimmers, this was their first meet of the swim season, and for some swimmers, the first meet in their swimming career.
"The Goldfins Swim Club was eager to host the first of this series of developmental swim meets," said Jennifer Robinson, Goldfins Head Development Coach stated when discussing the benefits of facilitating this development swim meet. "By creating a partnership with Craven SPORT Services, we have developed a framework designed to support competitive swimming within the province of Saskatchewan. Craven Sport Services has been a long-time supporter of the Goldfins Swim Club, providing dry-land programming, physiotherapy consultation, and event sponsorship."
"This series of meets allows our novice swimmers an opportunity to compete within their own age group. This swim meet format, can be comforting to our newest competitive swimmers. Swimmers will gain confidence and competitive skills that will prepare them for future senior seeded competition."
Swimmers were awarded with commemorative stickers for the posting of personal best times and for the winning of the heat they competed in. Raffle draws winners for the Fuddruckers gift cards were: Leah Frey – Battlefords Kinsmen Orcas Swim Club and Emerson Omusula – Meadow Lake Manta Ray Swim Club.
Andrew Leganchuk was the winner of the Craven SPORT Services prize basket.
The unique relay event that was offered at this meet, was designed to showcase the three strokes that were featured during this competition (Backstroke, Breaststroke and Freestyle). The medley relay – 3 X 50M (No Fly stroke) was offered as a non-sanctioned event. Two heats were seeded, with the Goldfins Swim Club "E" Relay: Gillian Grayston, Ivy Kellett and Cade Busa winning the first heat and the Battleford Orcas "A" Relay: Hughes deMontarnal, Alexander Kramm and Aaron Cherney winning the second heat. Heat winners were presented with goggles supplied by Vorgee Swim Gear."
The Goldfins Swim Club had 61 swimmers compete in this exciting event. The Goldfins swimmers posted 131 personal short course best times.
The Club was pleased to have 23 swimmers post 100% personal best short course times:
Enioluwa Agbejule, Farrah Aitken, Kiarash Aminaie, Gage Andrews, Carlin Armstrong, Scarlett Baier, Cade Busa, Kyla Butterworth, Luka Fehr, Ty Fehr, Jacob Findlay, Abigail Gauld, Tess Hitchings, Grayson Keays, Olivia Lovick, Kyle MacGillivray, Zachary Mitchell, Lan Nguyen, Mika Petilos, Layla Phung, Ellie Smith, Sullivan Sondergaard and Yolanda Xu.
Goldfins' Top 3 Most Improved Short Course Events:
Mika Petilos 50 Freestyle 27.3% "-17.69"
Michael Xue 50 Freestyle 23.2% "-13.49"
Emmy Hoffmann 100 Backstroke 22.8% "-30.65"
The Saskatoon Goldfins swimmers posted 1 new Swim Saskatchewan Provincial Time Standards:
Saskatchewan A Short Course Provincial Qualifying Time Standards:
Lan Nguyen 50 Freestyle
Thank you to the Goldfins parents who made this event such a success, serving as officials and volunteers. Thank you to: Kelly Burke – Co-Meet Manager, Tanya Gokavi & Kelly Kozak – Officials Chairpersons, Senior Officials: Kae-Lynn Gebhardt, Tracey Kennedy, Randall Keays, Kirsten Dyck and Ryan Busa. The Goldfins Swim Club would like to thank Sharon Lyons and Ryan MacGillivray for referring this meet.
The Goldfins will be back in action at the Saskatoon Lasers SC Swim Meet – November 18, 2023 – Shaw Centre, Saskatoon, SK.
Go Goldfins Go!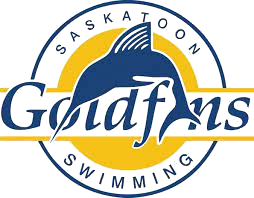 -30-